Facebook Ads 2023: A Comprehensive Guide to Creating Effective Ads
Find out everything you need to know in order to launch Facebook ads in this step-by-step instruction.

Creating successful Facebook ad campaigns requires attention to numerous details, such as audience targeting, creatives, ad format selection, or setting the budget correctly. It's easy to get overwhelmed and confused by these various factors. To simplify the process, we have compiled a comprehensive guide covering everything you need to know about Facebook advertising. This guide will help you keep all the campaign details organized and on track.
The basics of Facebook Business Manager
Let's begin with the basics. To create a Facebook ad, you need to have a Facebook Business Manager. Business Manager is a Facebook tool that lets you manage all of your Facebook pages and ad accounts from one place. With its help, you can remove or update the permissions of anybody who has access to your assets and, what is more, share your Business Manager account with agencies.
To create a Facebook Business Manager account, follow these 4 steps:
Navigate to the Business Manager page and select the Create Account option.


Sign in to Facebook using your personal account username and password. If you do not have a personal Facebook account or prefer to keep your Business Manager account separate, you can create a new account.


Fill out the necessary information in the pop-up window and click the Submit button.


Verify your business email address by clicking the confirmation link sent to your email.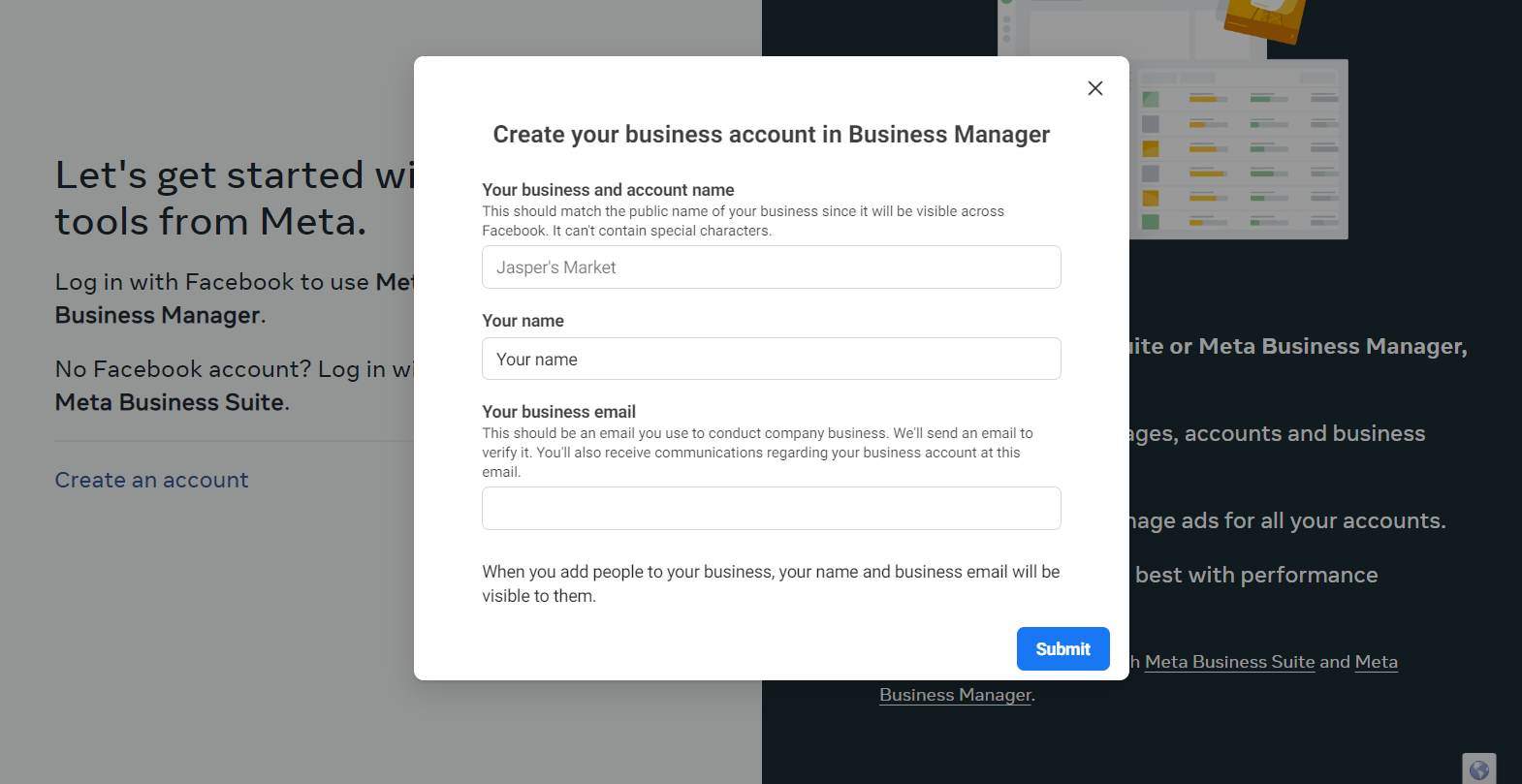 Before proceeding further, it's important to keep some points in mind while setting up your Business Manager account:
In order to create a campaign, your Business Manager account must manage at least one Facebook Page. Therefore, you need to add a Facebook Page to your Business Manager account, or create one. You'll also need to add or create a Facebook Ad account that will be linked to your Business Manager account.
You might want to check your notification settings. Facebook provides the option to customize the frequency of various notifications you receive, enabling you to only receive the most critical notifications via email. It's recommended to adjust your notification settings to ensure that you receive the necessary updates without being overwhelmed by unnecessary notifications.
It's important to consider Ad Account roles within your Business Manager, particularly if you are working with an agency or a freelancer. You can manage the roles of ad accounts within your Business Manager, such as admin, advertiser, and analyst. The admin role has more permissions than others, while the analyst role has limited functionality, which only allows them to view ad account reports. It's important to assign these roles appropriately, depending on the responsibilities of each user, to ensure that they have access to the necessary functions while maintaining control over your ad account.
There are some limits that you should be aware of:
- a user can manage up to 25 ad accounts
- an ad account can have a max of 25 users per account
- a regular ad account can have up to 5,000 ads
- a regular ad account can have up to 5,000 ad sets
- a regular ad account can have up to 5,000 campaigns
- an ad account can have up to 50 ads per ad set
With your Facebook Business Manager account created, your ad account set up, and roles assigned, you're almost ready to set up your first ad campaign. One more thing to do is to set up your payment method.
Billing and payment
To add a payment method to your Facebook ad account, you need to go to the Payment Settings page, which enables you to manage your payment methods easily. From there, you can add new payment methods, edit your current payment methods, set your account's spending limit, and view your next bill.
By setting up your payment options correctly, you can ensure that your ads run smoothly, and you don't experience any disruption in your ad campaigns due to payment issues. Facebook offers several payment options, including credit cards, PayPal, and direct debit, making it easy for you to select the one that works best for your business.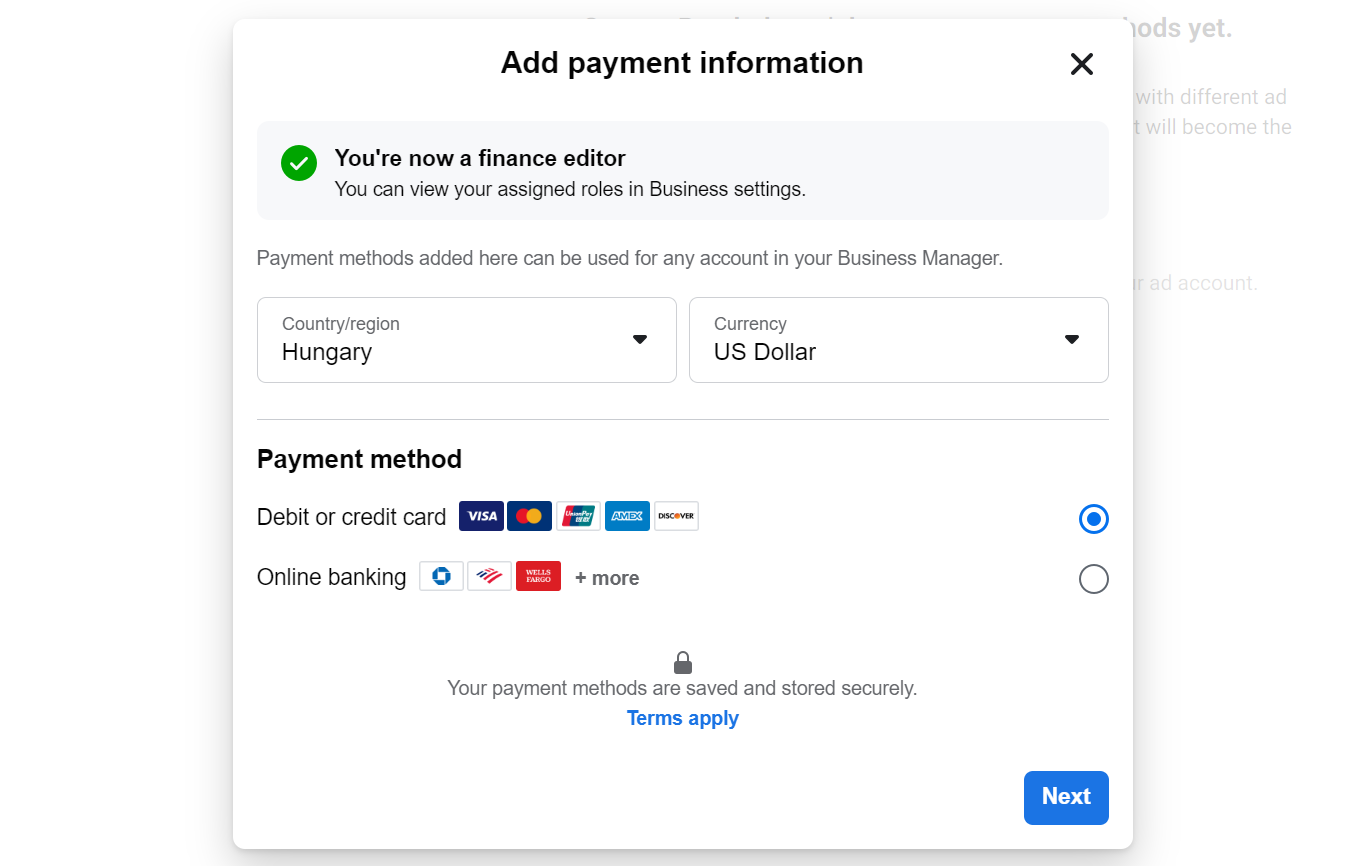 There are two primary payment settings for Facebook ads:
Automatic payments involve Facebook automatically charging you whenever you reach a specific amount, also known as your billing threshold. Facebook will then charge you again on your monthly bill date for any remaining costs. This is how you will pay for your ads if you use PayPal or most credit and debit cards.
Manual payments require you to add money to your account first, and Facebook deducts from that amount once a day as you run ads. This is how you will pay for your ads if you use a manual payment method, such as PayTM. With manual payments, you do not have a billing threshold, and you must maintain a sufficient balance in your account to ensure that your ads continue to run without any interruption.
It's crucial to note that once you have set your payment setting for your Facebook ad account, you cannot change it. For this reason, carefully consider which payment setting works best for your business needs before setting up your payment method.
Once you have set up your payment method, you are ready to move forward with creating a Facebook ad campaign.
How to set up a Facebook ad campaign
The Ads Manager has three levels for your ad campaign structure: campaign level, ad set level, and ad level. Shortly, the campaign level sets the overall goal and budget, the ad set level defines the target audience and budget allocation, and the ad level creates the actual ad content.

To create your first Facebook ad, proceed to Facebook Ads Manager and follow our step-by-step instructions.
Campaign level
Step 1. Go to the Campaigns tab in your Ads Manager and click on the green +Create button to start creating a new campaign.

Step 2. Choose a campaign objective.
This is an important step as it determines the available ad types, bidding options, and how Facebook optimizes your campaign. The following categories of objectives are available:
Awareness
Reach as many people as possible and create brand recognition. It is ideal for businesses that are just starting or launching new products or services.
Traffic
Drive traffic to a website, blog, or landing page. It is perfect for businesses that want to increase website traffic and visibility.
Engagement
Increase engagement on a Facebook page or a specific post, such as likes, comments, shares, or reactions. This objective is suitable for businesses that want to build a community or foster engagement with their audience.
Leads
Generate leads by collecting user information, such as email addresses or phone numbers. This objective is ideal for businesses that want to build a contact list for email marketing or sales follow-up.
App promotion
Promote a mobile app and increase app downloads. This option is ideal for businesses that have a mobile app and want to increase its usage.
Sales
Drive sales of a product or service. This choice is the best for businesses that want to increase their revenue and ROI by directly promoting and selling products or services.
Step 3. Assign a descriptive name to your campaign. This step is crucial in managing multiple ad campaigns since it will be easier for you to analyze results and compare the ad performance with the campaign name that reflects the parameter you compare.
Now take a moment to think: is "campaign 1 conversions" a good campaign name? The answer is no. In fact, such a campaign name will result in wasting time managing campaigns.
Instead, consider including relevant information in the campaign name, such as:
Client name (product/service name/page name)
Promoted item
Campaign objective
Target country
Launch date or update date
CBO status

These details can significantly aid in organizing your ad account and analyzing it with a quick glance.
Step 4. If your ad falls under any of the Special Categories, you must select the category from the dropdown menu.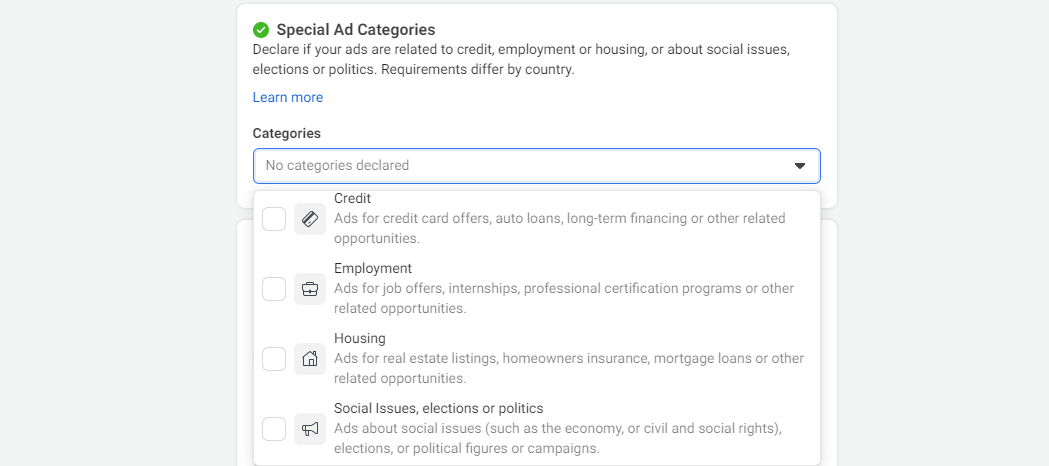 Step 5. Set specific parameters for your ad campaign in the Campaign Details section. More specifically, in this step you are asked to determine:
This is where you choose how you want to pay for your ads. The buying type you choose will depend on your advertising goals, budget, and the size of your target audience. If you're not sure which buying type is best for your campaign, you can try testing both buying types to see which one delivers the best results for your business.
Here's a breakdown of the two buying types offered by Facebook and what they're best used for:
Auction buying type
This is the default buying type on Facebook Ads and it's best suited for advertisers who want to optimize for a specific goal, such as conversions, app installs, or website traffic. With the auction buying type, you bid against other advertisers for ad space, and Facebook uses an algorithm to determine which ad is shown to which user. The auction buying type is recommended for campaigns with smaller budgets, as it allows you to compete with larger advertisers on an even playing field.


Reach and frequency buying type
This buying type is best for advertisers who want to ensure that their ads are seen by a specific number of people within a given period of time. With the reach and frequency buying type, you set a fixed price to reach a certain number of people, and Facebook will automatically deliver your ads to that audience until your budget is depleted. This buying type is recommended for campaigns with larger budgets, as it can be more expensive than the auction buying type.
Note: reach and frequency buying is only available to qualified advertisers.
This is where you set an overall spending limit for your ad campaign. This means that your ad sets in the campaign will stop once you've reached your spending limit. Note that this option is not available when using a campaign lifetime budget.
Step 6. Determine whether to perform A/B testing. A/B testing is a technique used to discover which ad version resonates better with your target audience by conducting experiments.

Step 7. Establish your campaign budget and bidding. It's worth noting that Facebook provides various budgeting options to suit different business needs. There are two main levels to set the budget:
Campaign level: All campaign budgets use campaign budget optimization (CBO), where Facebook decides how to effectively spend the budget on your behalf. This option is suitable for beginners who want to leave the budget allocation to Facebook.


Ad set level: Ad set budgeting allows marketers to have more control over the budget distribution among different ad sets. It's a better option for experienced marketers who can manage and evaluate different ad set metrics.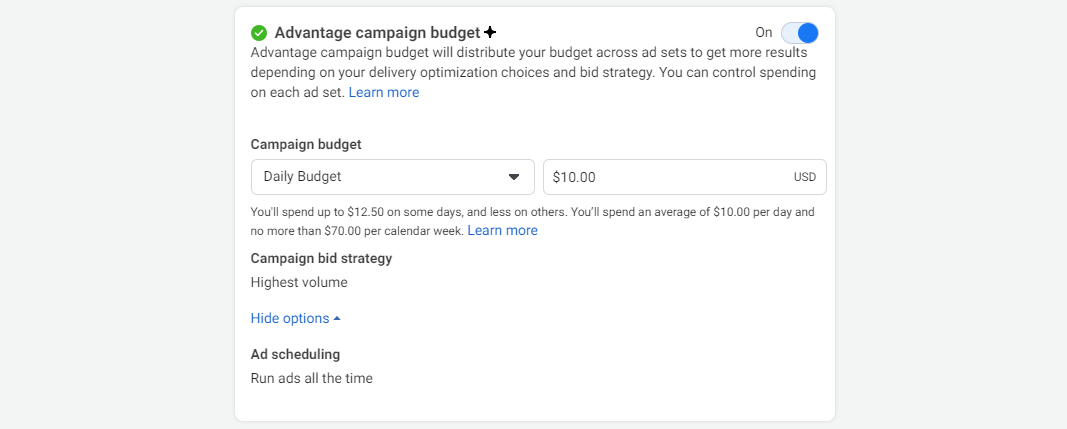 Both campaign and ad set budgets can be set either on a daily or lifetime basis. A daily budget means a fixed amount spent each day to achieve consistent results, while a lifetime budget sets the maximum amount spent by the end of the ad running period, with daily spending varying.
Note that it's extremely important to consider various factors like your goals, market data, and conversion data when setting up the Facebook ad budget. Once all the parameters are configured, you can proceed to the Ad Set level settings.
Ad Set level
In this section, we will discuss the details of setting up a Facebook ad campaign on an Ad Set Level.
Step 1. Select a name for your Ad Set. Make sure to include relevant details such as the targeted audience, budget, placement, pricing, launch date, update date, and others.
It's crucial to use specific parameters that will allow you to identify the Ad Set quickly and easily.

Step 2. Choose a conversion location and a conversion event. Depending on the objective you've chosen, you'll need to select where you want to generate leads/sales. The locations will differ based on the specific objective. For instance, the Traffic objective will give you the following options: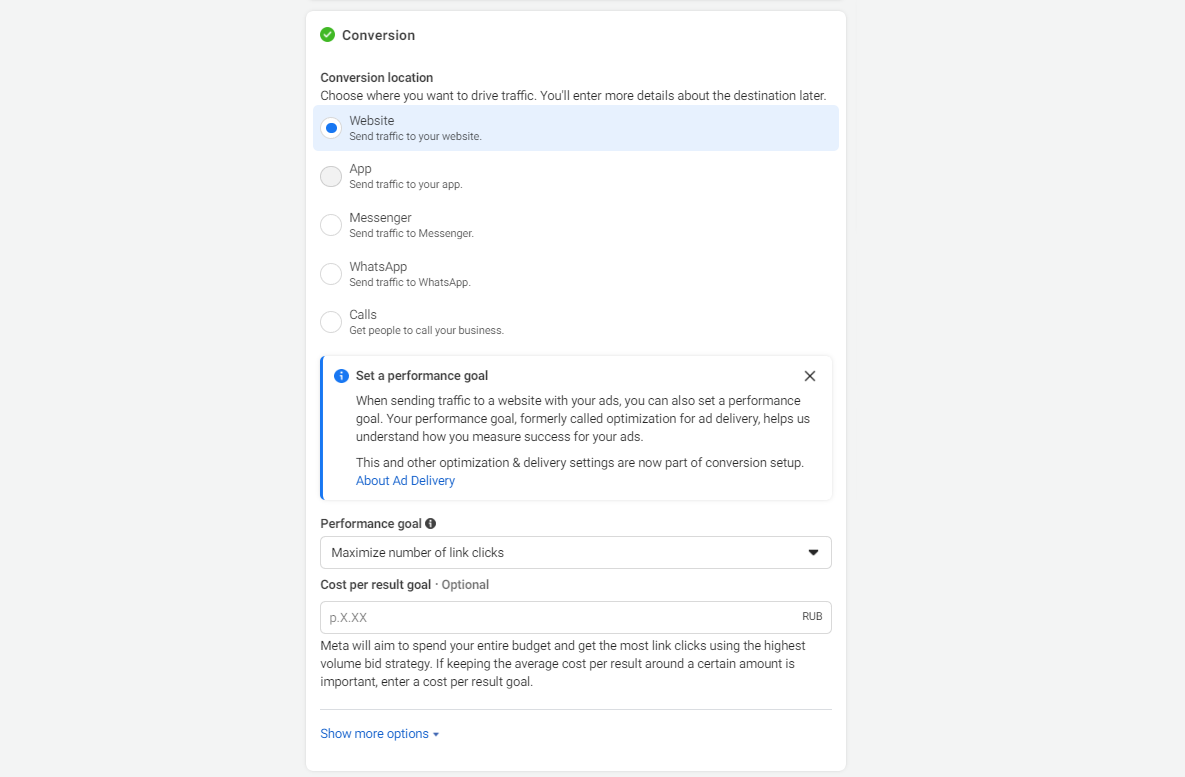 Conversion event, or the action that you want your audience to take, depends not only on the objective itself but on the conversion location as well. For example, as you can see from the screenshot above, for Traffic -> Website, there is no option to select the event. However, if your goal is Engagement and you choose Website for the location, here's what you see: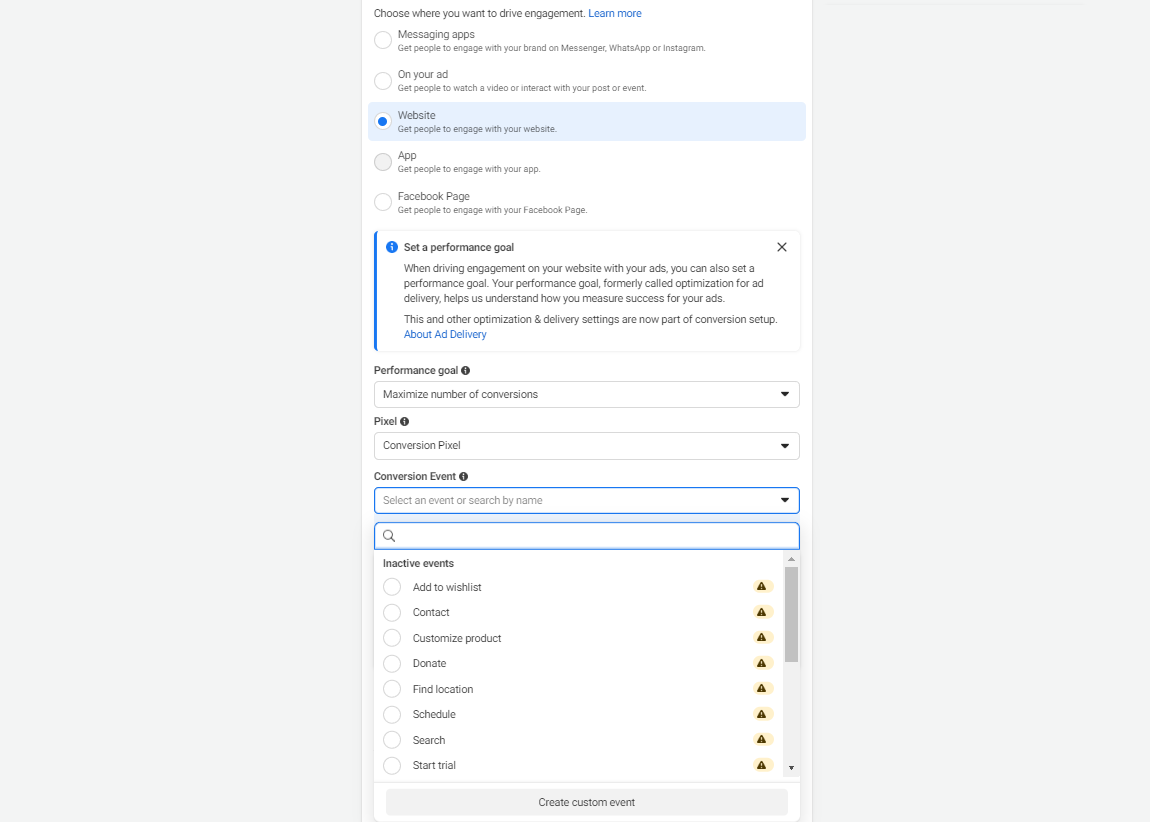 Make sure to select the location and event that truly corresponds to your goals so that Facebook does its best to reach them.

Step 3. If you haven't already set the budget at the campaign level, you will need to do so now. As previously mentioned in step 7 of the Campaign level, there is a difference between Campaign Budget Optimization and Ad Set Budget, and it's important to understand which option is best for your objectives.

Step 4. Set up audience targeting. You can create four types of audiences to target:
This kind of audience allows you to connect with users who have already demonstrated an interest in your business. You can create a custom audience based on website traffic, customer contacts, mobile apps, and more.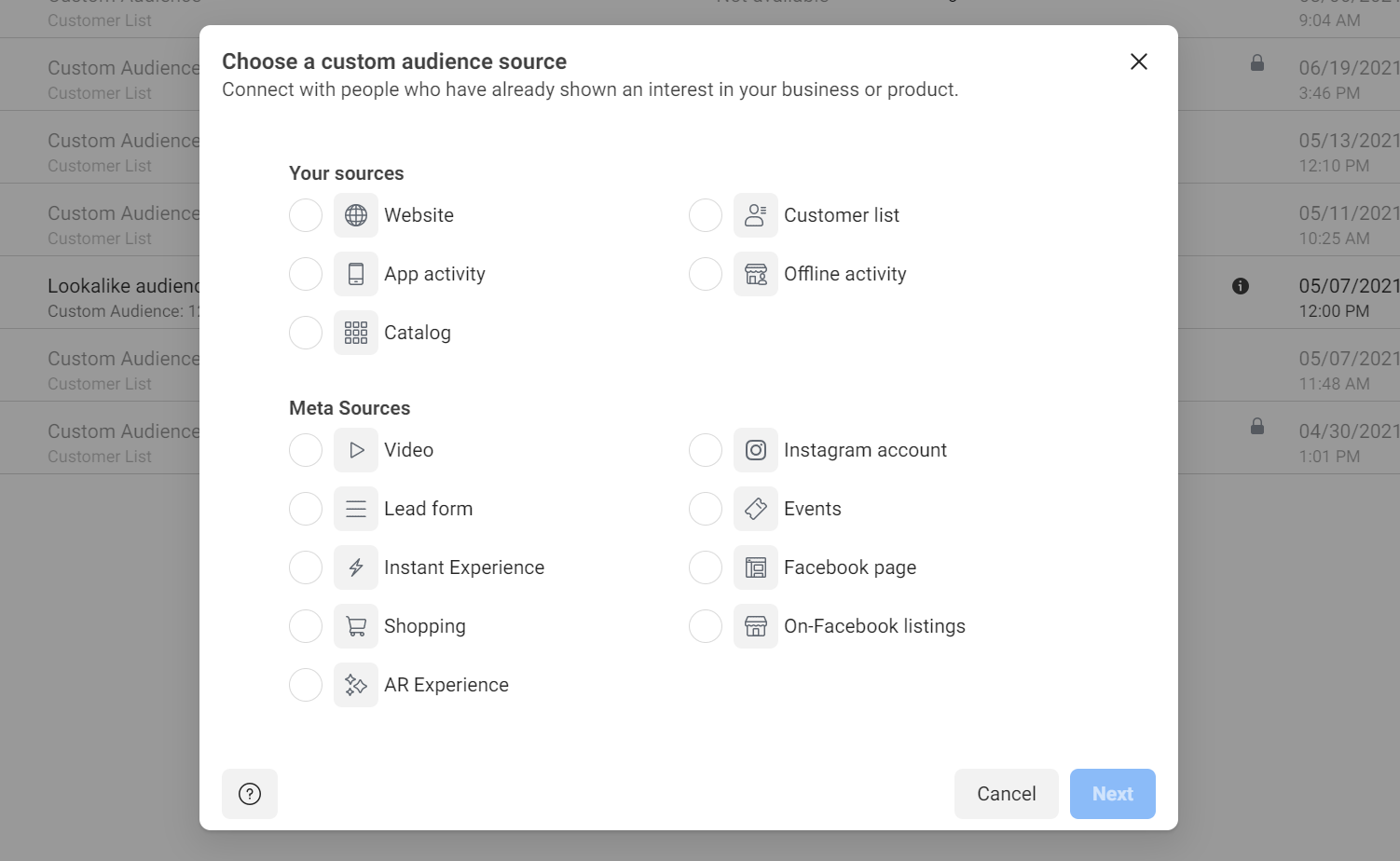 Creating a custom audience, you can select users by their age, gender, location, language, and connections. Moreover, you can target their interests, behaviors, or demographics using the Detailed Targeting section.
This option enables you to reach people who are similar to your existing audiences. It can be based on any of your custom audiences, people who like your page, or conversion pixels.
With this kind of audience, you can save the audience and reuse it later, saving time in the advertising process. The audience can be based on specific targeting options such as demographics, interests, and behaviors.
This audience is exclusively available for the Special Ad Category, which helps you reach users who have a similar online experience as your customers.
Step 5. Select ad placements. At this stage, you must choose where your ads will appear. Keep in mind that the campaign objective you have chosen will limit your options.

There is a wide range of Facebook ad placement options available, such as:
Feeds (Facebook/Instagram reels)
Stories and Reels (Facebook/Instagram stories)
In-Stream Videos (Facebook In-Stream Videos)
Search results (Facebook search results)
Messages (Messenger sponsored messages)
In-article (Facebook Instant Articles)
Apps and sites (Audience Network)
By default, Facebook will select advantage+ placements, which it believes will provide the best outcomes. However, if you think it will help you gain better results, you can manually select some of the listed options.
Ad level
Finally, you can proceed to Ad Level where you'll need to set up ad format and creatives.

Step 1. Select an Ad title. When naming your ad, there are several factors to take into account, such as:
Ad format (image, video, collection, carousel)
Dynamic formats for multiple text options
Copy/imagery details
CTA button used
Language optimization

Well, as it can be seen, the name of your campaign, ad set, or ad should be chosen based on the key metrics that you prioritize as a marketer. This rule will help you save precious time and nerves.
Step 2. Then, you'll be offered to choose the Facebook and Instagram pages that you want to promote. The first one is obligatory and the other is optional.

Step 3. Choose an ad format. To set up your ad, you have the option to create a new ad, use an existing post from your page, or use Creative Hub mockup.
After that, you can choose an ad format, which refers to the basic layout of your ad. There are seven basic Facebook ad formats, including:
Image ads (contain only a single image)
Video ads (contain a single video)
Slideshow ads (3 to 10 images or a single video that plays in a slideshow)
Stories ads ( pop up in-between the stories on Facebook, Instagram, Messenger, WhatsApp)
Instant Experience ads (mobile-only interactive ads that lets users engage with content on Facebook)
Carousel ads (flip through multiple images or videos, each with its own headline, link, or description)
Collection ads (mobile window-shopping experience where, with one tap, readers can scroll through your product lineup)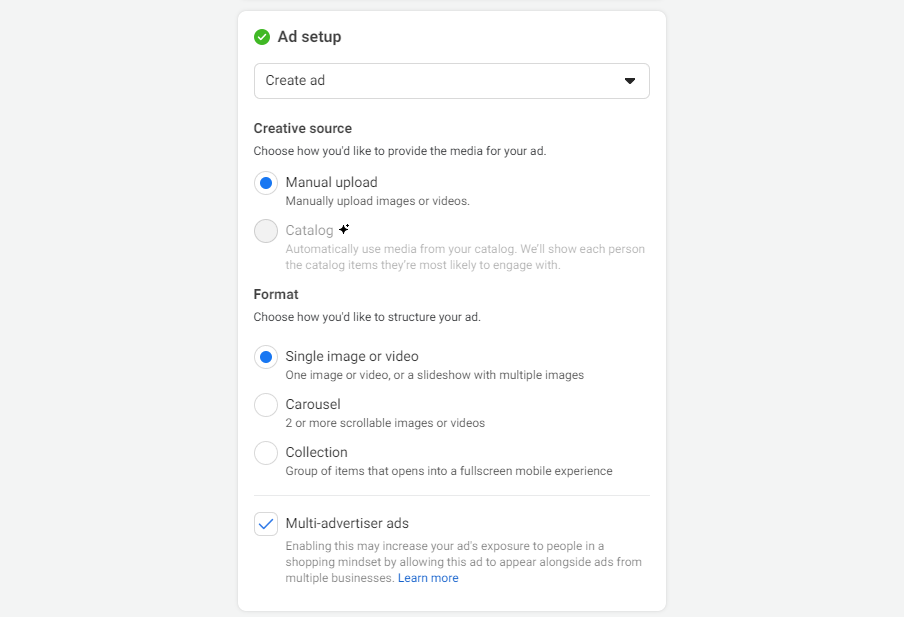 Step 4. Select the creatives. Once you've set up the appropriate ad format, add all your materials such as images or videos, copy, CTAs, and language optimization.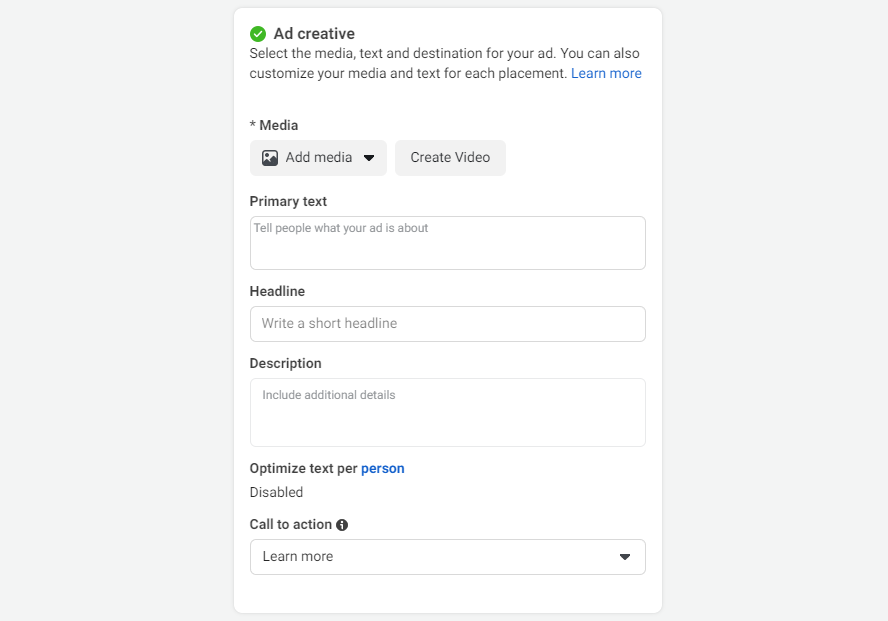 Step 4. As the last stop here you decide where to send people after they click your ad. Depending on your conversion location, ad format, and creative choices, destination options will differ. They may include:
Website
Website and shop
App and website
App
Instant Experience
Facebook event
Phone call
As not all destinations are available for each conversion location, Facebook will show only those that will match your desired results.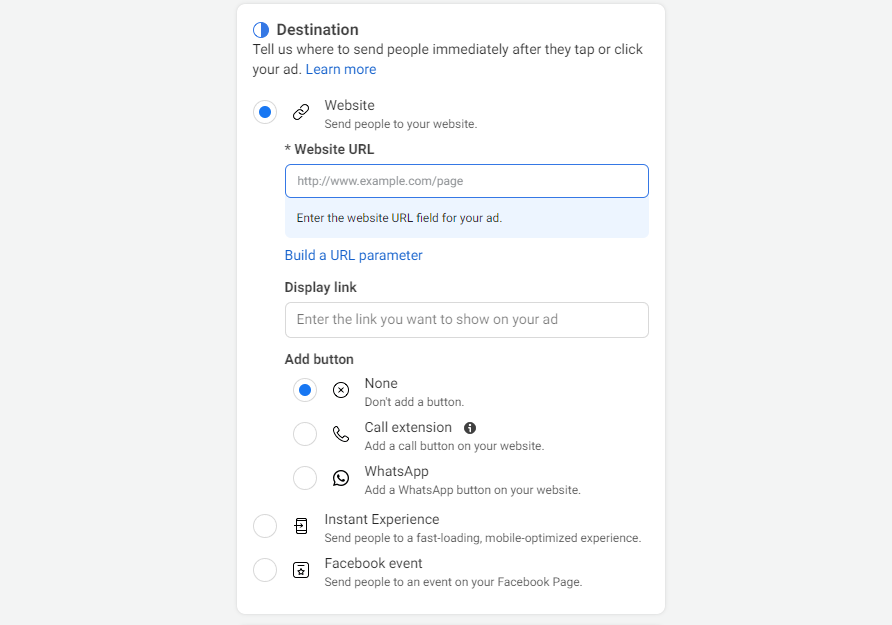 Finally, click on the Publish button to complete the process and launch your ad campaign on Facebook.
Conclusion
Facebook Ads provides a wide range of features for ad customization that can cater to the needs of different businesses. Try out different settings and formats to determine which ones deliver the best results for your business.
Read more from our blog to know Facebook ad best practices and don't miss out on the opportunity to reach your target audience on the largest advertising platform available!