Time Management Tips for Your Next Marketing Campaign
If you're a marketing manager dealing with too many tasks to handle, use the tips from our article to master time management.

Digital marketers have a challenging job. You deal with a ton of tasks every day that seem to come from all sides, from developing effective marketing strategies to doing tiny administrative duties. Add never-ending social media updates, the releases of the newest tools, and endless meetings to it, and you'll see that there is never enough time in the day.
With everything going on around you, it's easy to become overwhelmed. That is why it is critical to maintain discipline and focus on the things that are vital. Luckily, time management is a talent that can be mastered. To help you get through your job and possibly spare yourself an hour or two during the day, we'll dive into basic time management strategies and practical tips that marketing managers can find useful.
Shortly about time management
Time management is the process of planning out your time to complete your tasks and work efficiently. This ability enables you to organize your workload, perform excellent work, and have a healthy work-life balance.
Success in business, especially for those in marketing, depends on effective time management. Among other soft skills a great marketing manager can have, such as creativity or strategic thinking, effective time management is one of the most important.
Managing your time well helps you produce high-quality work. You can be more productive, understand what each activity necessitates, and plan accordingly. In other words, those who are good at time management can make better use of their time and work more efficiently. Furthermore, they are also better at prioritizing and determining what actually has to be done, putting the rest aside.
Now that you understand the importance of this skill, we are going to move forward and see how it can be developed and improved. In case you still have doubts about whether your time management skills need improvement or not, answer the following questions:
Do you consistently complete tasks on time?
Can you understand the difference between urgent and important?
Are you capable of delegating urgent but less significant tasks to appropriate team members?
Do you maintain a structured "To do" list to manage your tasks efficiently?
Is it your usual practice to follow your assigned work hours without going over them?
If you find yourself answering "no" to these questions more than once, there's a clear indication of the need to refine your time management skills. Fortunately, it is not that hard, it will just require a commitment of your time and effort. Think of it as tidying up your room, but in this case, your workspace and workflow are the areas that need tidying and organizing.
Time management requires a unique and personalized approach to task setting and completion. To organize your workflow effectively, let's look through the basics of time management in general. There are numerous ways to organize your workflow efficiently, and we'll use a priority matrix as an example.
A priority matrix, often called a prioritization matrix, arranges activities or projects according to a predetermined group of criteria. Priority matrices can range from four quadrants to 20 rows or columns in size and complexity.
Within a traditional four-quadrant priority matrix, your task may fall into four categories based on their impact and urgency:
High impact and high urgency = do first, maybe right now;
High impact and low urgency = do next;
Low impact and high urgency = delegate or schedule a time to do it later;
Low impact and low urgency = avoid till you finally have time to handle it.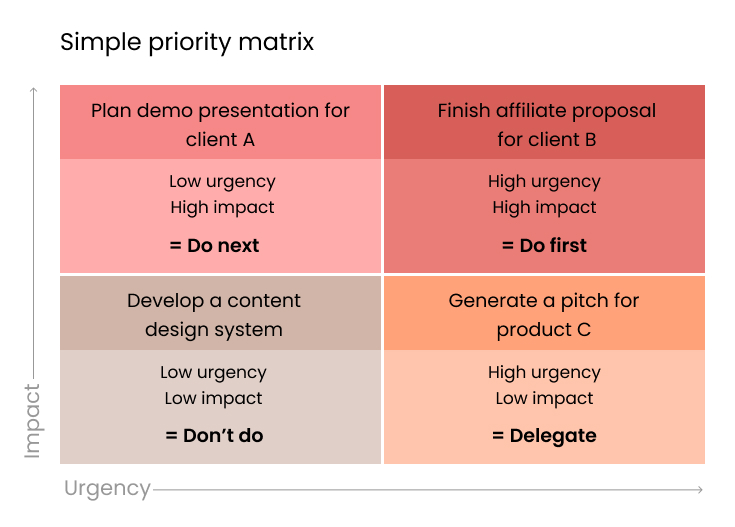 Complex priority matrices are more accurate since they provide more columns and rows to precisely identify which job matters the most. However, complex priority matrices have the drawback of making prioritizing a little bit more challenging.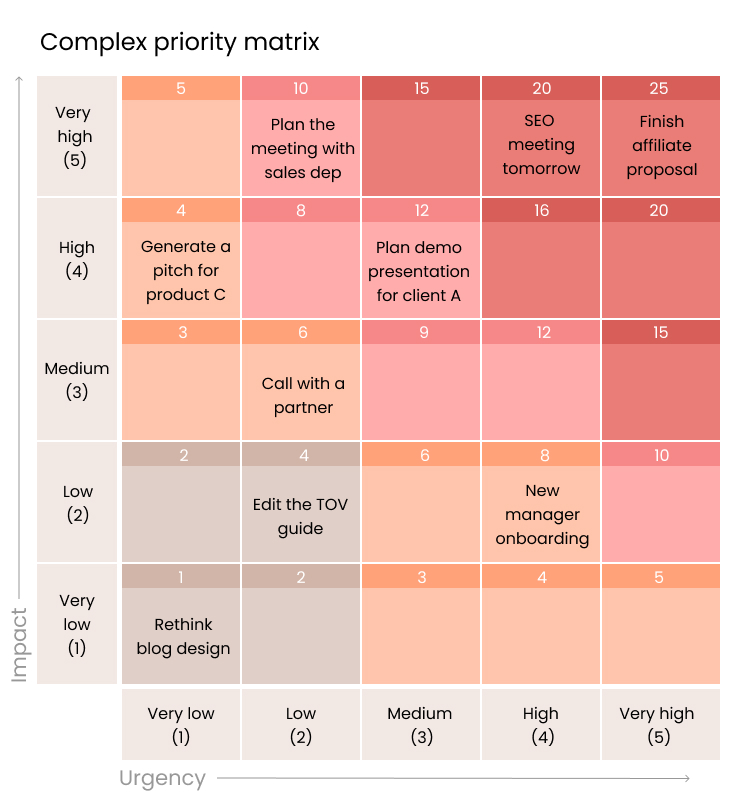 When you need a quick way to filter through and prioritize crucial activities, priority matrices might be useful. All in all, the steps to create a matrix are:
1. Create a to-do list;
2. Determine the criteria based on which you'll prioritize tasks;
3. Develop the matrix structure based on your identified variables;
4. Assign each task to the appropriate quadrant based on its impact and urgency;
5. Decide on actions for each quadrant, detailing how you'll tackle the tasks within.
In addition to using a priority matrix, employing SMART goals may be crucial for successful task prioritization and completion. The acronym SMART stands for:
Specific, meaning that you need to be clear about what needs to be accomplished, who's going to be responsible for it, and what is required to achieve this concrete goal. For example, suppose you want to increase the number of people who visit your landing page. Here is how you can make this goal specific:
Grow the number of monthly visitors to your landing page by creating targeted social media campaigns.

Measurable, as quantifying your goals makes it easier to track your progress. Set a finish line and do everything to get as close to it as possible. Appealing to an example we used previously, you need to make your goal measurable like this:
Grow the number of monthly visitors to your landing page by 1000 by creating targeted social media campaigns for our social media platforms.

Achievable, which means that your goals should be realistic and attainable with the available resources. In case you can not afford to launch ads on multiple platforms at the same time, specify what you can really do:
Grow the number of monthly visitors to your landing page by 1000 by creating targeted social media campaigns via Facebook and LinkedIn.

Relevant, and in this case, a simple question, "Why?" can make a big difference. Validate the relevance of your goals and their contribution to the overall objective. Ask yourself, "Why am I setting this particular goal?" Here is how you can add relevance to your goal setting:
Grow the number of monthly visitors to your landing page by 1000 by creating targeted social media campaigns via Facebook and LinkedIn, because increasing the number of visitors will increase the number of subscriptions.

Time-bound, as everyone needs to be well aware of when a goal has been reached. Set a clear timeline for achieving each goal. Below is an example of how a SMART goal may look:
Grow the number of monthly visitors to your landing page by 1000 within the first quarter of 2023 by creating targeted social media campaigns via Facebook and LinkedIn in February 2023, because increasing the number of visitors will increase the number of subscriptions.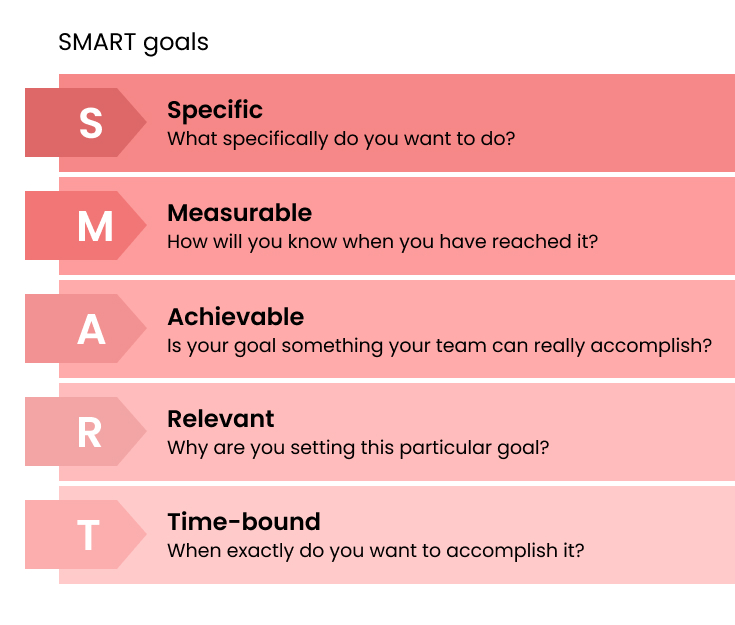 Moreover, apart from priority matrices and SMART goals, think about how to better allocate your resources, create deadlines and milestones, and of course monitor and revise your plan as needed.
It is just one of the ways to schedule your work. There are numerous approaches that can be implemented in your personal time management strategy, and it's better to choose the one that suits you perfectly. Yet, you can see now that you'll need some time to develop a time management system, but once it's done, you'll be able to use it on a regular basis to track all your activities.
Whether you're a solo marketer or leading a team, the fundamentals remain the same — you need to be able to manage your time efficiently. Let's now take a look at some practical tips for time management for marketing managers. It's better to categorize the tips for better understanding.
Time management tips for ideation

The process of developing and creating ideas is very insidious. On the one hand, you have a lot of room for creativity and putting your ideas into action. On the other hand, there are many risks of repeating someone's idea or choosing the wrong offer or visual. Balancing inspiration and concentration is challenging, especially amidst daily distractions. It is extremely crucial in this situation to plan your time wisely and employ solutions that can increase productivity. The following tips will help you with ideation:
1. Take notes and keep them organized
Ideation is not only about scheduled brainstorming sessions. It can strike at any moment and can hardly be controlled and organized. Capture ideas efficiently using note-taking apps and services. Moreover, ideas can appear when you least expect them, so you can try making a voice recording of your thoughts whenever they pop into your head. Consider keeping a notepad somewhere not far, for instance, in your bag or right at the table. You may also keep notes on your phone, send messages to chat with yourself or use note-keeping services like Evernote or Google Keep.
2. Use special tools to spare yourself
There are numerous free and easy-to-use services available today that are designed to simplify the work of marketers. These tools provide capabilities that will benefit even the most exhausted and overworked content creators. To increase productivity and free up your important time, we recommend employing them in everyday practice.
For instance, it's a good idea to start using tools that reflect search activity and analyze the popularity of search terms using real-time data, such as Google Trends, which displays the frequency of Google searches for a specific topic.
One might also benefit from platforms aimed at finding the best engagement, content, and outreach possibilities on social and search, like BuzzSumo, which assists in revealing the truth about what content actually works and what sinks without a trace. Furthermore, there are many content idea generators that allow you to easily generate content ideas, even when you're sick of ideation. The other is the Portent Content Idea Generator, which can help in creating content titles based on proven techniques and best practices.
Also, in terms of advertising you can use tools like AutomatedRules to fully automate your ad management routine. With AutomatedRules, you can set certain actions that will trigger under certain conditions in advance and let the automation micromanage your ads, and make automatic adjustments based on your own marketing strategy.
3. Brainstorm wisely
After jotting down ideas, organize and prioritize them for future use. It's convenient to maintain an ongoing list of content suggestions that you may refer to at any moment in the future. That may be a Google Doc that your entire team can access. Make a list of relevant sources in your field that you may use for content curation so that you can refer to them later. Subscribe to industry newsletters from leaders in your niche and stay updated with industry trends. To gain knowledge listen to audiobooks related to your sphere and professional development. Don't forget about your competitors, as what they use as recent post topics is what's hot right now.
Consider if it might be better to update and refresh old content instead of creating completely fresh content. You can use the data gathered by Google Analytics to get essential insights into your past content.
Time management tips for management and communication

It's crucial to set up rules that will make it simpler for you to collaborate within a cross-functional team or project. Teams that communicate well are able to better understand one another and work more efficiently to achieve common goals. Marketing managers should know tips and tools for successfully organizing and managing collaboration. Here is what you might find helpful:
1. Make collaborating easier
Use texting apps like Slack to communicate within your office. Make sure everyone understands where to find the files and documentation that your team will need. For instance, you can try collaboration apps and keep everything in one workspace that can be shared with your team, such as Google Workspace. Set up a standard naming scheme for project-related files and documents that will make accessing items considerably simpler.
Set up regular meetings to discuss the project's progress, communicate, and exchange important information. Use a shared Google Calendar to ensure that everyone on your team is aware of meeting schedules, important activities, and so on.
2. Establish team workflows
To avoid wasting time wondering what each individual should be doing at each stage of a project, create consistent workflows. There are many ways to create an environment where people can do their best work, and the easiest method is the following:
Divide the project into steps. Put those steps in order and thus create a sequential task list for your project. It'll be beneficial to set a progress goal within each step that has to be achieved. For instance, you can use the SMART model to set specific, measurable, achievable, relevant, and time-bound objectives.
Assign roles. Who is responsible for what? If you take the members' talents into account and try to provide them with a job that enhances those strengths, you'll accelerate the process. Set deadlines.
Track the process and provide feedback. Some task management tools may come in handy here. For example, Atlassian's team collaboration software like Jira, Confluence, and Trello can be used by teams to organize, discuss, and complete shared work. It'll help you keep everyone on the same page, preventing miscommunication, confusion, and frustration.
3. Delegate effectively
You can't and shouldn't do everything yourself. That's true for you and for your team members. As a marketing manager, you should put maximum effort into enhancing your team. If the task can not be completed within its timeline, then it's better to delegate some of the work. Allocate tasks based on team members' strengths and expertise. Choose the right person for the task, provide clear instructions and necessary resources, and supervise the progress to maintain accountability and quality.
Delegation can be a chance to make workloads more manageable. If you delegate well, you can increase trust and commitment with your employees, improve productivity, and make sure the right people are performing the tasks that best suit them.
Time management tips for content writing

Marketing managers produce a lot of written material during the day. Some of it needs to be reviewed, and some of it has to be written from scratch. You must manage your writing time wisely if you want to write well. Managing your time allows you to write faster and with more focus. You may lower your stress levels and find time for tasks other than writing with the help of effective time management. Let's take a look at some of the time management tips that can help with content writing:
1. Schedule writing
Every writer should be able to effectively manage their time, especially while working under deadlines. Consider implementing a block system. It could be simpler to schedule a thirty-minute writing block five days a week than a single five-hour session. If you can, schedule a regular writing time on your calendar. Block it out.
Content should be planned out two or three weeks in advance. Make sure you fill your calendar for at least one week ahead. To save a ton of time, employ a content calendar like CoSchedule. For every piece of content you plan to schedule, try to write an outline. You'll be able to produce more focused material more quickly if you keep the organization of your content consistent.
2. Minimize distractions
Minimize disruptions from people and technology as much as possible. Make sure your workspace is somewhat quiet, and turn off the phone and email notifications. Identify what other distractions might be interrupting you and get rid of them. Remember that it's only for the time you're working on your content.
If you're serious about reducing distractions, you can try distraction-free writing processors that are designed to immerse you as much as possible in the working process. By minimizing interruptions, processors like Focus Writer attempt to provide the cleanest writing environment. There are also distraction-free text editors for the web like WriteBox that help you write more efficiently and stay productive.
3. Use some AI help
There are various AI technologies available to help you develop and create the best content. The world is changing quickly, and now you may select from a wide range of AI writing assistants, AI article generators, and SEO writing and content creation tools to match your unique needs. For example, article-writing services like Jasper will create your blogs, articles, E-books, scripts, and any other content for you. Editing services like Grammarly will help you make your writing clearer. Quillbot's paraphrasing tool will rewrite and enhance any sentence, paragraph, or article.
Use headline analyzer tools that allow you to write SEO headlines that drive traffic, generate shares, and have a high ranking in search results. Use SEO tools like Google Keyword Planner to find traffic-driving keywords and build quality backlinks.
Time management tips for social media

Making the time to complete all comprehensive social media tasks might frighten even the best experienced marketers. Social media marketing comes with its own set of difficulties and distractions. Below are tips that can assist you in focusing and managing your social media marketing activities:
1. Use one tool to manage all your accounts
Managing several social media accounts using individual apps is time-consuming. Try using special software to combine all your social media profiles. Consider tools like Hootsuite, which allow you to manage your Twitter/X, Facebook, LinkedIn, Instagram, and YouTube accounts all in one place. You may easily save a significant amount of time by entering into one dashboard rather than many sign-in pages each time you want to make social media updates.
Also, use a password manager to save time entering passwords or recovering forgotten ones. Password manager tools like LastPass store all user credentials in one place.
2. Use social media ad management tools
If you're reading this, you probably are aware of how difficult it can be to manage multiple ads at once. Integrating social media ad management tools into your strategy allows for efficient handling of advertising efforts, better targeting, and informed decision-making.
For instance, use AutomatedRules to get rid of the need to constantly monitor your ads while ensuring you get the best ROI.
 It covers the routine while you focus on your marketing strategy, and manages your ad campaigns from multiple advertising platforms in one place.
3. Automate social media publishing
If you repeatedly upload information to each social network throughout the day, you know how disruptive it is. Creating content in bulk and scheduling it to upload automatically at the appropriate times is far more convenient.
Moreover, it will be quite beneficial to post at the right times and with the right frequency for each network to achieve a regular presence with less active effort and attention. According to Hootsuite's research on the best time to post on Facebook, Instagram, TikTok, Twitter, and LinkedIn, the average best time to post on social media overall is 10:00 a.m. on Tuesdays, Wednesdays, and Thursdays. However, each network has its own ideal posting times and frequency. What remains common for all platforms is that one of the simplest strategies to increase your organic reach is to post your content while your audience is online.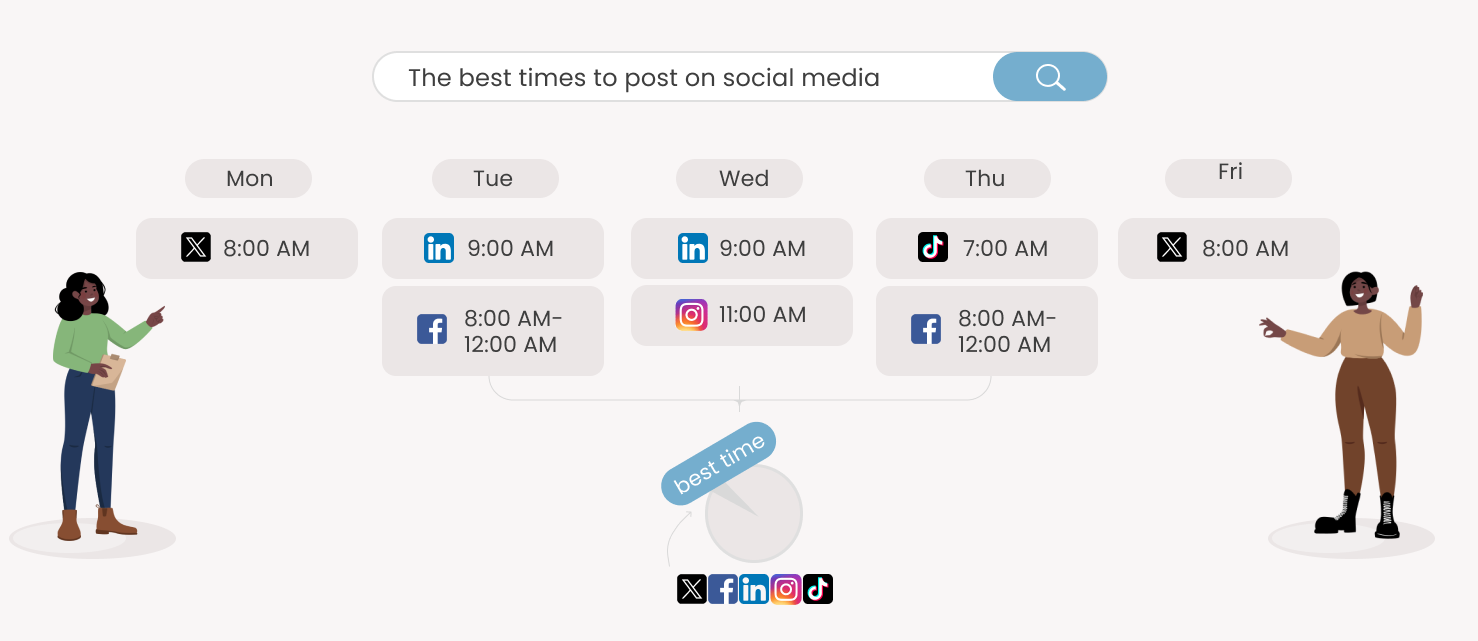 4. Turn one idea into multiple posts.
Of course, cross-posting the exact same content to each platform is not a really great idea. But who stops you from creating several variations on a single post? Customize one post for different social networks. Each platform has a unique audience that desires to see posts of a particular length, type of visual, hashtags, and tone of voice. You see, you don't have to create content from scratch for every platform.

Moreover, use templates to streamline your processes and store information. There are lots of different types of templates you could use for different purposes. Content based on the same assets can be published across numerous social networks as long as you change the post appropriately.

Another way to save time on content creation is by implementing content curation. To cut it short, this is basically content from other content creators that you share on your social media. Reach out to those content creators and share a link to an article from their blog or simply share a social media post from them. It'll save you time, make your posts more entertaining, and help you build connections with other industry leaders.
General time management tips for marketing managers

Last but not the least. Marketing managers have a lot of work to handle, but they frequently ignore their own time management and protection. It makes them feel overworked and thus stressed. Creating a healthy working environment is as important as achieving good outcomes. We've put together some of the most commonly overlooked recommendations that might really make your job simpler:
1. Track your time
Turn time into your ally. Don't believe there is a universal strategy to which you should adhere. Some people perform best in the morning, others handle high-priority tasks in the evening. Some prefer 3-hour working sessions, while others need to take a break every 30 minutes. Some say you need to plan tomorrow today, for others, setting a plan for the day is the best way to start work. Learn your own pattern of productivity and use that to your advantage. What is obvious is that you should take care of your own brain and take frequent, timed breaks.
For some, a popular time management method called the Pomodoro Technique works really well. It was developed by Francesco Cirillo as a university student in the late 1980s, when he used a tomato timer to measure his working sessions. In a nutshell, you work in 25-minute bursts separated by 2-5 minute breaks. After four pomodoros, one should take a 20-30 minute break.
2. Keep track of your activities
Make task checklists to help you stay on track. Set priorities for your tasks. Determine how long it will take to perform a task. When you know exactly what each activity requires, you can develop an accurate plan and make adjustments to make the process more efficient. To figure out how you're spending your time, use a time monitoring program like Toggl.
Don't be afraid to delegate or to protect your time by saying "no." Some tasks don't require immediate execution or your personal involvement. Always know when it is appropriate to delegate responsibilities and which activities can easily be done by others. Learn to recognize and keep within your limitations.
Although multitasking has lately gained popularity, psychologists now claim that it is just an unhealthy time-waster. Focusing on one activity at a time will allow you to get more tasks done.
3. Clear out your working area
Your environment reflects your mind. Decluttering it might assist you in mentally decluttering. Remove anything unnecessary from your desk. Reduce the amount of paper you use. Create a file system if necessary. Get your cables (phone chargers, headphones, and power adapters) in order.
Make creative use of space by using affirmations to inspire you throughout the day if you believe it would benefit you. Make sure the atmosphere you work in resembles the one you desire.
Don't forget about your digital space. Remove any unused icons from your desktop and set a relaxing, non-busy background. Archive old emails on a regular basis, and tidy up as you go, eliminating everything you don't need. Take care of your space, and it will take care of you.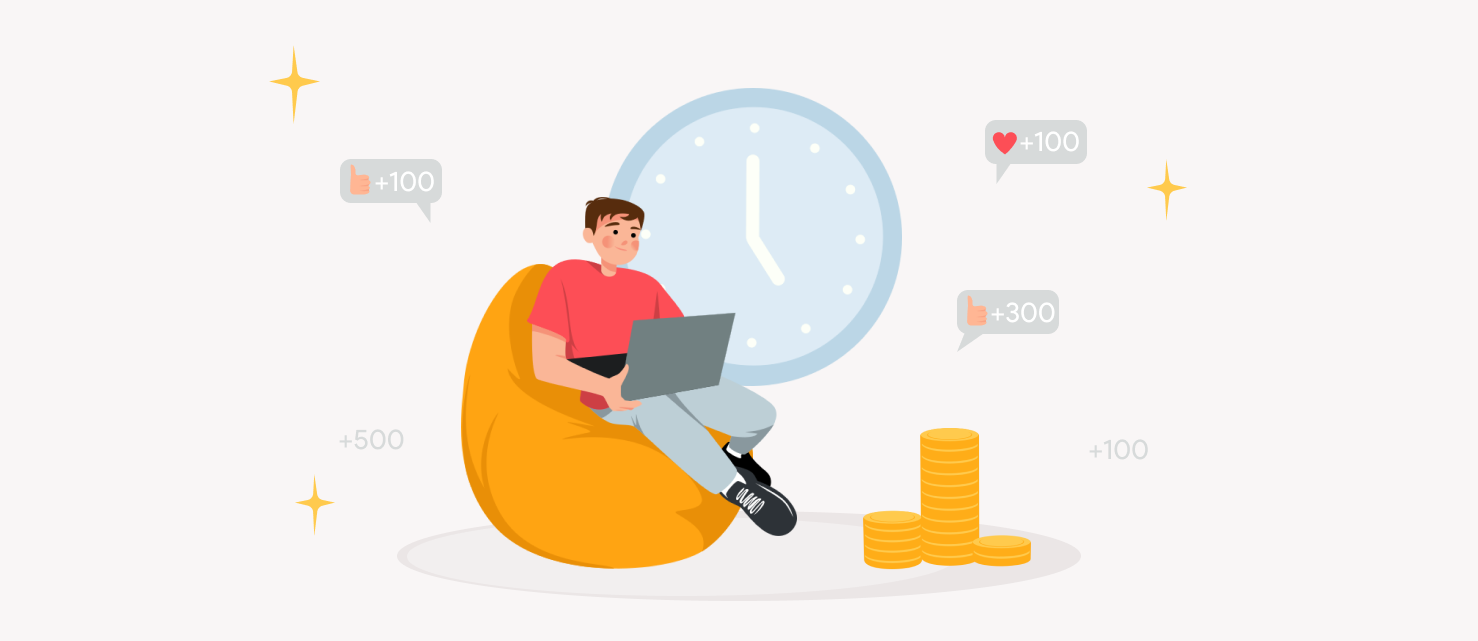 To sum up…
Effective time management is essential for business success, particularly in marketing. Good time management is a key factor in delivering high-quality work. Marketing managers, maybe more than others, must be able to manage their time effectively. Managers with strong time management skills may be more productive, understand what each activity requires, and prepare accordingly. Use the practical tips provided in this article to enhance your time management skills. Establish your personal routine and stick to it.